Interesting, isn't it, how we consider all businesses to be different? Different industry, different product, different sector, different size, … Yet they all aim to make a profit.

Are they really different, then? Actually, no! Working in a global giant engineering firm, a printing firm selling nationwide (we went international while I was there), a prominent international airline, a nationwide women's retail chain, a small accounting and business advisory firm and with business clients of all shapes, sizes, industries and sectors has revealed that the business fundamentals are just that – fundamental to business, of any kind.
In this course we look at those fundamentals. We discuss business structure – what roles there are within a business, when a sale is actually a sale, why price shouldn't be your profit determinator, what item listed as an asset in your Balance Sheet is actually a cost, where to find the money hidden in your Balance Sheet, budgeting / forecasting, business planning, and more.
The course covers concepts already well popularized, adding to some of them – for example we believe there are more than 5 Ps – and how they should be applied in business. And we recommend lots of good reading.
In short, you will build on the Know-How you have. We are sure you can see that this course will readily pay for itself!
Who Is The Target Audience?
We want everybody to do it! Seriously! The course is designed for:
Students (high school and above, if not earlier)
People in the workforce, and
People wanting to get (back) into the workforce.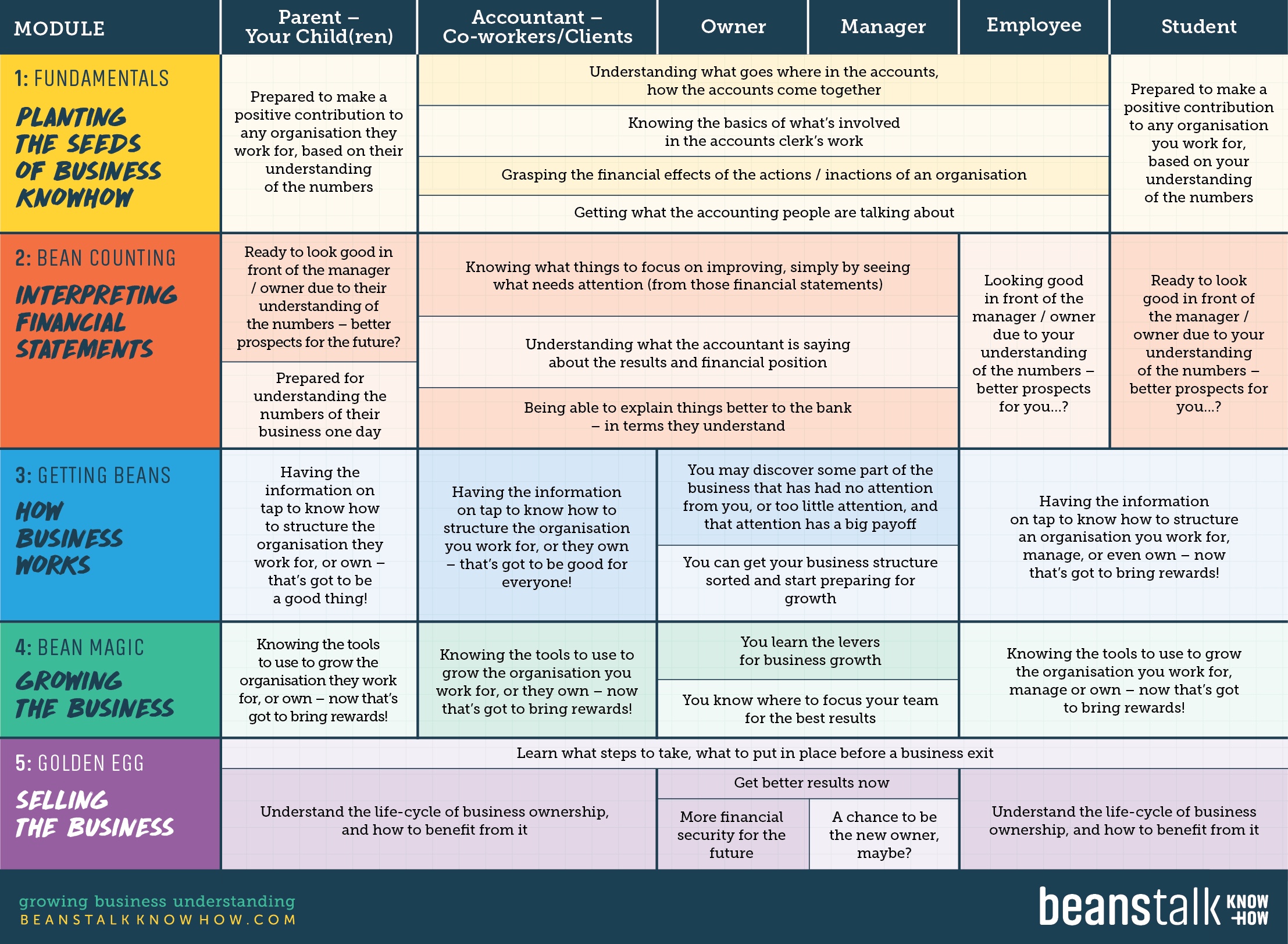 Why This Module?

The majority of people end up working (for money) within an organisation for which numbers / performance are important. For most people this employer is a business, maybe even one they own themselves! Yet, in spite of this, schools do not teach anything about business. So, most people end up not knowing what a business should look like, how it should work, or what functions are necessary within a business.
This module, which follows on from earlier modules, is a start in changing this. It's a start in making people more valuable to the organisation they work for, more able to manage that organisation, and more able to help strengthen it.
How Does It Work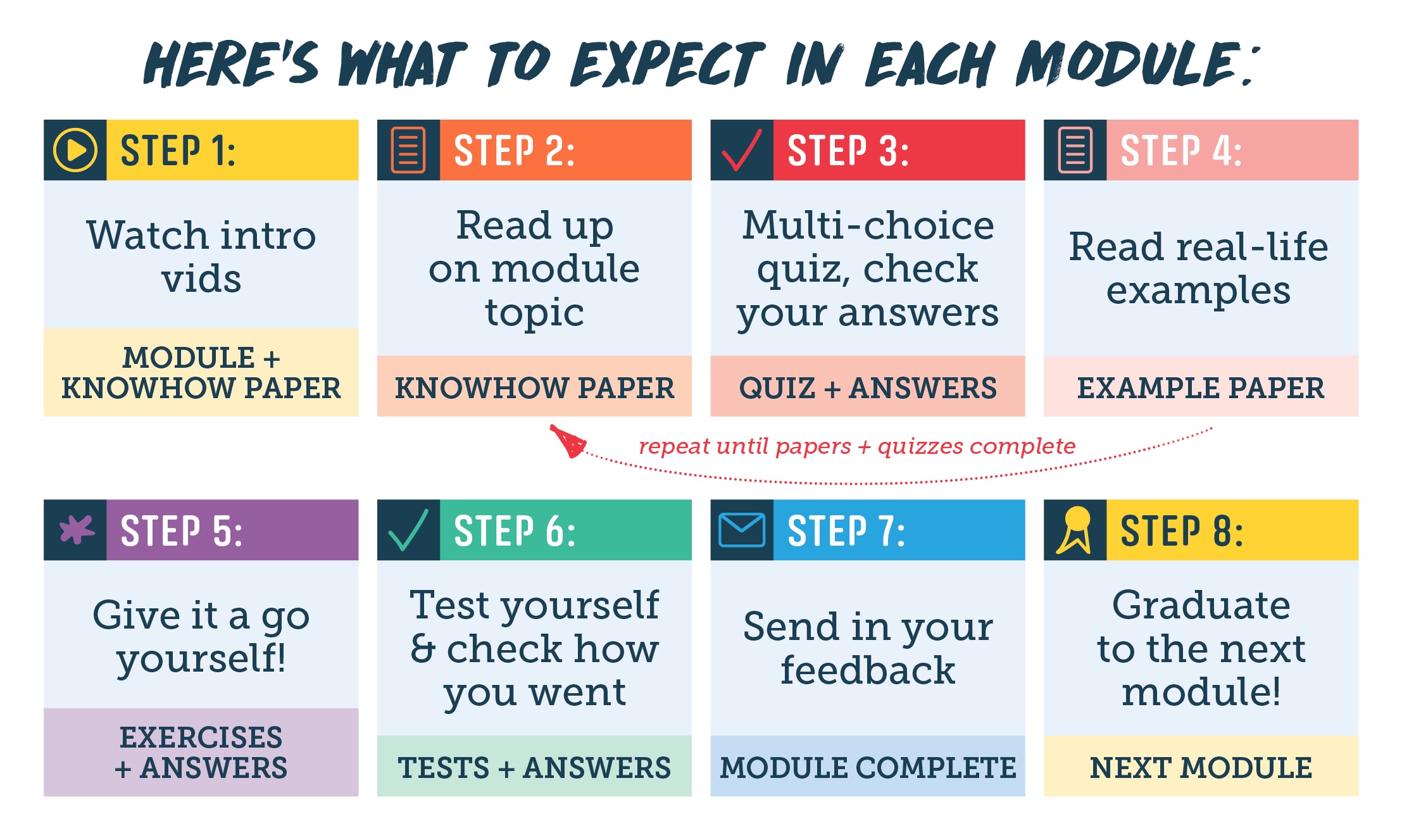 How Long Will This Take?
It depends how hard out you want to go. But we envisage you should be able to get through the module in around ten hours total.
How is the Course Structured?
The module includes a number of KnowHow papers, with accompanying Quizzes. You then move on to Examples, followed by parallel Exercises. We cover the essential components of a business, what business structure is, and the six areas a business plan must cover – Marketing, Operations, Human Resources, Technology, Financing and Innovation.
What Do I Get?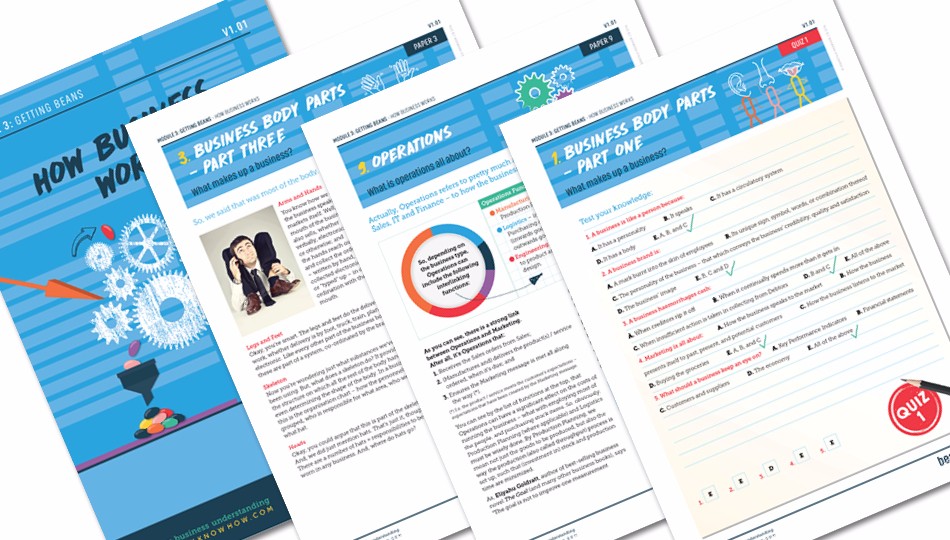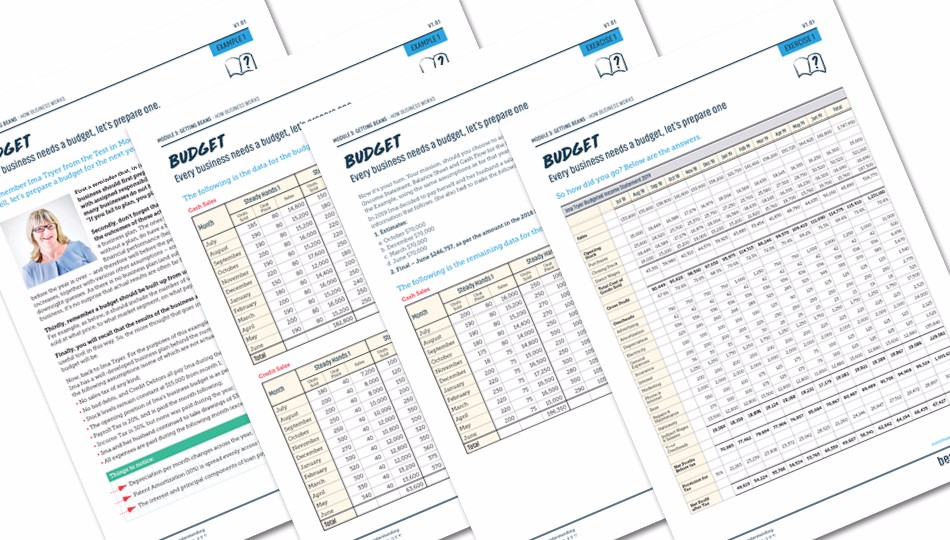 You get a login to enable you to access:
The PDFs of:

The KnowHow papers
The Examples
The Exercises
The Exercise Answers

The Quizzes (and their answers), which are hosted online.
Testimonials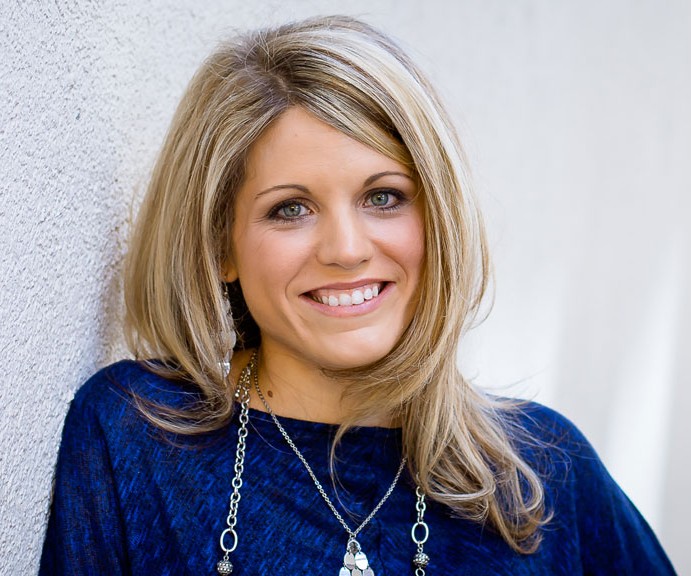 Crystal Paine - Money Saving Mom

"I never really understood the why behind many of my tasks. While working through this program in preparation for my daughter, I was able to gain a better understanding of the why behind how I do things, such as; balance sheets, fixed assets and depreciation. With this new understanding, I am able to do my job much more efficiently. This in turn makes me a more valuable asset to my company."